[Sassy_Social_Share title="Sharing is Caring"]
The Google Pixel 6a has been freshly revealed at Google I/O, and it's seen a considerable overhaul compared to its predecessor. It's the more affordable counterpart to the Pixel 6 and Pixel 6 Pro that arrived last year, offering some of the same features but keeping the Pixel 5a's price by keeping things like the display and main camera at a lower spec.
Google Pixel 6a specs
Price: $449
OS: Android 12
Display: 6.1-inch OLED
Refresh rate: 60Hz
CPU: Google Tensor
RAM: 6GB
Storage / Expandable: 128GB / No
Rear cameras: 12.2MP main, 12MP ultrawide
Front camera: 8MP
Battery: 4,410mAh
Charging: 18W wired
Size: 6.0 x 2.8 x 0.35 depth inches/152.2  x 71.8 x 8.9 mm
Weight: 6.3 oz/178 g
Colors: Sage, Chalk, Charcoal
With phones like the iPhone SE (2022), Samsung Galaxy A53 and OnePlus Nord 2, Google's got some tough competition waiting for it once it launches. But with a Google Tensor chip, Google's excellent photography software, plus a competitive price, it's got a good chance of standing out among our best cheap phones.
Read on for a summary of what Google's told us about the Pixel 6a, and how that puts it in comparison to its rivals.
Google Pixel 6a: New features and specs

The Pixel 6a pre-orders start July 21st for $449.
The Google Pixel 6a has a smaller 6.1-inch display, down from 6.34 inches on the Pixel 5a. The refresh rate remains at 60Hz (bummer).
The Tensor chip powers the Pixel 6a, which means Google is using its own silicon. This is backed by 6GB of RAM and 128GB of storage.
You get two cameras with a 12.2 MP wide camera and 12MP ultrawide. You also get Pixel 6-grade photo features, including Magic Eraser, Real Tone and Face Unblur.
Google promises a minimum of 5 years of security updates, which is big.
There's an under-display fingerprint sensor, so you don't have to use a back-mounted sensor. And it's going to be a different one from the slow sensor from the Pixel 6.
The 4,410 mAh battery is smaller than the 5a's 4,680 mAh pack. But with the smaller display hopefully you won't see a battery life hit.
 
Google's selling the Pixel 6a for $449/£399, starting with pre-orders on July 21 and a full retail release on July 28th. That's the same price as the Pixel 5a and the Samsung Galaxy A53. It's a bit more than the iPhone SE 2022 in the U.S. (where it costs $429), but it does undercut it in the U.K. (where it's £429).
Even better news than the price is the widened availability. The Pixel 5a was only offered in the U.S. and Japan, a very limited market. This time, the Pixel 6a is on offer in a larger selection of countries, including the U.K.
But the Google Pixel 6a may have big problem in the form of the Pixel 6. There's only $150/£200 between the Pixel 6a and the Pixel 6, which given the extra specs, such as a 90Hz refresh rate, battery and RAM, make the latter a good deal in comparison to the upcoming budget Pixel phone.
For more detailed comparisons between Google's new mid-price phone and its relatives, take a look at our Google Pixel 6a vs. Pixel 6 and Google Pixel 6a vs. Pixel 5a face-offs.
Google Pixel 6a design and display
Unsurprisingly, Google's made the Pixel 6a fit in with the Pixel 6 and 6 Pro, using a camera bar design on the back, a centered punch-hole camera on the front and an under-display fingerprint sensor beneath (but using a different sensor to the annoyingly slow one on the Pixel 6 series). One small change is that the cameras are now gathered under a single oblong glass cover, which makes the lenses more prominent.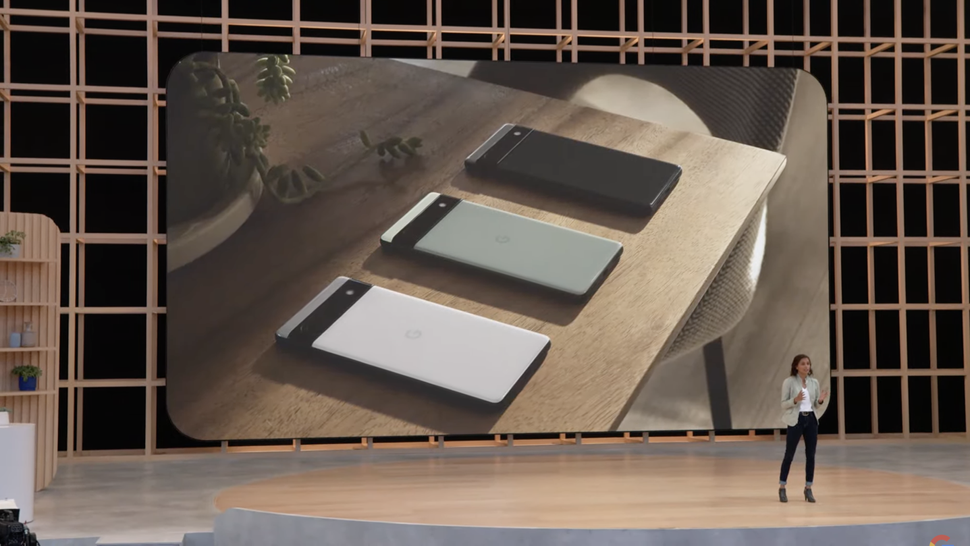 Unfortunately there's no headphone jack this time around, something which the Pixel 5a did offer. It's a particularly unfortunate exclusion on budget phones which tend to still offer them, but perhaps you'll be tempted to pick up a pair of Google Pixel Buds Pro.
For color choices, Google's offering Charcoal black, Chalk white and Sage green color options. These aren't the liveliest bunch of colors but hopefully it's enough to please most users.
And, if you're worried by the phone getting wet, then you can rest assured that the Pixel 6a offers IP67 water/dust resistance.
Google Pixel 6a: display
Google has equipped the Pixel 6a with a 6.1-inch AMOLED display with FHD resolution and Gorilla Glass 3 exterior. That's a touch smaller than the 6.34-inch display on the Pixel 5a, but not so much that you'll want to rethink an upgrade because of it.
Unfortunately for the Pixel 6a, it's stuck at a 60Hz refresh rate. That's slower than most modern Android phones, which have moved to smoother 90Hz or 120Hz rates. At least the iPhone SE 2022, which is also sticking with 60Hz, now has company.
On the plus side, Google is apparently using a different fingerprint sensor under the display, and based on a leaked video seemingly from Google France, it looks to perform much more reliably than the Pixel 6's often frustrating reader.
Though the video has now been removed, it certainly looks faster in action than the flagship phone's version, which can only be a good thing.
Google Pixel 6a cameras
Pixel 6a has an older camera this time and not the flagship cameras seen on the Pixel 6 and 6 Pro. Google seems to be turning the spotlight on the Tensor chip for the 6a.
But for your photography needs, the Pixel 6a gives you a 12.2MP main camera and a 12MP ultrawide camera on the back and an 8MP selfie camera on the front.
The ultrawide camera has a reduced resolution compared to the Pixel 5a's 16MP ultrawide camera. However that's possibly made up for by a larger sensor that will offer greater brightness.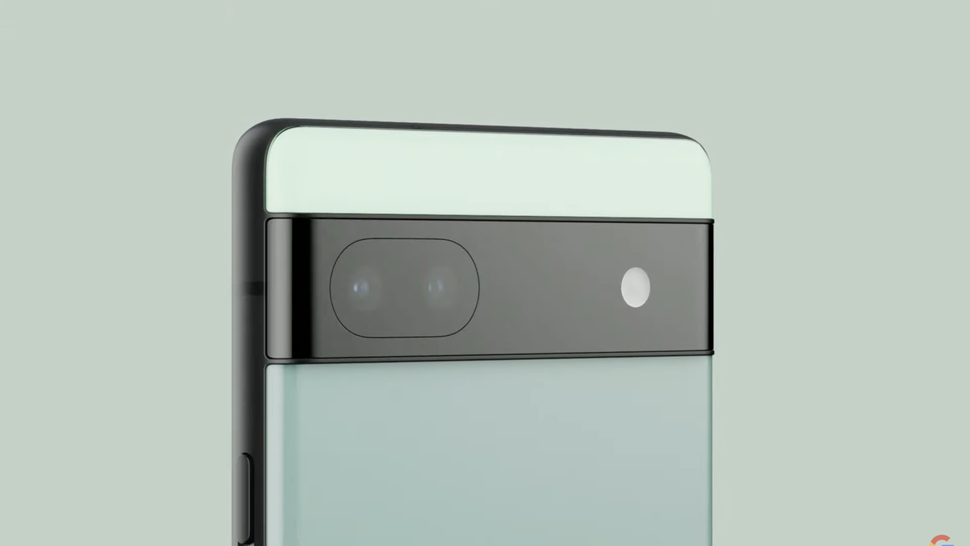 Google's about more than just the camera hardware for photography, It's also promised a low-light photography mode (not always present on phones at this price level), Magic Eraser (now with an added object recoloring ability) and Face Unblur for the Pixel 6a, some of our favorite parts of the Pixel 6 experience. For videographers, you have the ability to record 4K video at up to 60 frames per second, slo-mo up to 240 frames per second, and the option to record timelapse videos in 4K.
Google Pixel 6a performance
Abandoning the Snapdragon sensors of old Pixel a-series phones, we now have a Google Tensor chipset, just like the mainline Pixel 6 and 6 Pro. This should give it quite a bit more power than most of its rivals, although it may not match the flagship Pixels since it only gets 6GB of RAM instead of 8GB or 12GB.
For storage capacity, there's a single 128GB version. That's the typical standard for a modern smartphone, so hopefully you won't struggle for space unless you're a photography fiend or have huge numbers of apps downloaded.
Google's confirmed there's 5G on the Pixel 6a, and that includes both the regular sub-6GHz flavor and the less common mmWave version that some U.S. carriers use. Good news if you want to jump to the Pixel 6a while keeping your existing provider, or if you want a new phone capable of using mmWave's enhanced speeds.
Google Pixel 6a battery and charging
Powering the Pixel 6a is a 4,410 mAh battery, a bit smaller than the Pixel 5a's 4,680 mAh cell. Hopefully Google's made some other adjustments to make the phone more efficient, as the 5a didn't perform well on the TG custom battery test.
Google doesn't think you should worry though. Its official estimates say you'll get over 24 hours of regular usage from the 6a, and up to 72 hours with its Extreme Battery Saver mode enabled.
One thing that's not changed from last year is the charging speed. Although the Pixel 6 series got a 30W fast charger, you can only power the Pixel 6a at up to 18W like you could on the Pixel 5a. That could mean you won't get a particularly good recharge with the 6a if you're pressed for time.
Google Pixel 6a: software
Google's arming the PIxel 6a with Android 12 at launch, including the usual Google-exclusive features. That includes Live Translate and Magic Eraser, among other treats.
Google promised the mainline Pixel 6 five years of updates, which we hoped would also come to the Pixel 6a and give it amazing long term value. However Google's only promising five years of security updates for the Pixel 6a, which could mean you miss out on a couple years of full Android upgrades. It's still a good deal though, as some Android phones struggle to get more than one or two years of full updates.
Google Pixel 6a outlook
The Pixel 6a's only just debuted, but we're definitely excited for it. After the competent but disappointing Pixel 5a, this year's model looks to be a much more dynamic phone, bringing all the Google-exclusive goodies we were hoping for.
It's going to be some time before we can test the phone ourselves, but hopefully once we do, we'll find it's a great competitor for the iPhone SE and Galaxy A53, giving users plenty of choice even if they're not spending flagship-level money.